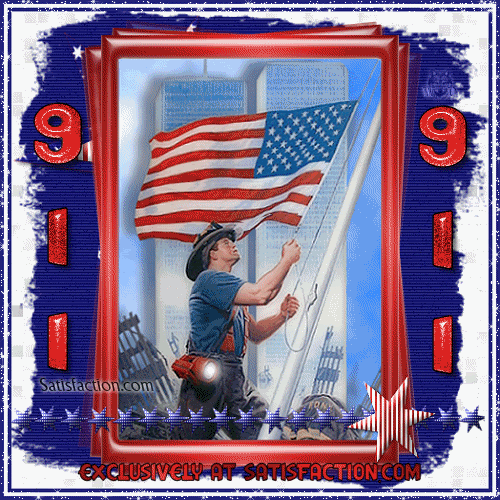 Comments and Graphics - Layouts - Photobucket
On September 11, 2001 many firefighters, police officers and other officials and civilians lost their lives due to the ignorance and hate of others. Our heros didn't concern themselves with their own comfort but unselfishly were more concerned about others - even to the point of losing their lives. "Greater love hath no man than this, that a man lay down his life for his friends."
CLICK HERE WE SHALL NEVER FORGET
Those involved in the clean-up worked sometimes in very unhealthy conditions breathing dust and smoke all day long. They went through the emotional turmoil of finding body parts, but also found wedding rings to give as a small memorial to the families of the deceased.
Retired FDNY Lt. George R. Kreuscher recalls the morning of the Sept. 11, 2001 terrorist attacks in his book; his son responded for FDNY
Click here to hear the Song "A Hero

"
Here are the words to the song;
A Hero
A charity song for children who lost
a firefighter/police parent in the 911 attack.
The morning froze in silence
as the terror filled our hearts
we stared in disbelief at what we saw.
Through the dust we felt so helpless,
wishing that we could have known.
We hold our families close, as we watched them fall.
Some people didn't waiver, they had a job to do.
There was nothing that could keep them away...
Oh, it's a special kind of hero
who would sacrifice themselves - so I could spend another day with you.
And for all the fallen heroes who saved a life that day
your courage unites a nation, and we'll remember you.
So many people crying, walking in a daze
holding pictures of their loved ones
through an empty haze.
Our Heroes didn't falter, they held out a helping hand
remembering their own children, as they rushed inside again.
They didn't waiver, they had a job to do
and some never made it home that day.
Oooh well remember you. We honor you, salute,
respect and cherish you.
Not many people can do the duty that
you knew on that cold September day.
Lyrics by Amy Matthew ASCAP 2008,
music by Karen Mack from KAR Records.
The initial numbers are indelible: 8:46 a.m. and 9:02 a.m. Time the burning towers stood: 56 minutes and 102 minutes. Time they took to fall: 12 seconds. From there, they ripple out.
* Total number killed in attacks (official figure as of 9/5/02): 2,819
* Number of firefighters and paramedics killed: 343
* Number of NYPD officers: 23
* Number of Port Authority police officers: 37
* Number of WTC companies that lost people: 60
* Number of employees who died in Tower One: 1,402
* Number of employees who died in Tower Two: 614
* Number of employees lost at Cantor Fitzgerald: 658
* Number of U.S. troops killed in Operation Enduring Freedom: 22
* Number of nations whose citizens were killed in attacks: 115
* Ratio of men to women who died: 3:1
* Age of the greatest number who died: between 35 and 39
* Bodies found "intact": 289
* Body parts found: 19,858
* Number of families who got no remains: 1,717
* Estimated units of blood donated to the New York Blood Center: 36,000
* Total units of donated blood actually used: 258
* Number of people who lost a spouse or partner in the attacks: 1,609
* Estimated number of children who lost a parent: 3,051
* Percentage of Americans who knew someone hurt or killed in the attacks: 20
* FDNY retirements, January–July 2001: 274
* FDNY retirements, January–July 2002: 661
* Number of firefighters on leave for respiratory problems by January 2002: 300
* Number of funerals attended by Rudy Giuliani in 2001: 200
* Number of FDNY vehicles destroyed: 98
* Tons of debris removed from site: 1,506,124
* Days fires continued to burn after the attack: 99
* Jobs lost in New York owing to the attacks: 146,100
* Days the New York Stock Exchange was closed: 6
* Point drop in the Dow Jones industrial average when the NYSE reopened: 684.81
* Days after 9/11 that the U.S. began bombing Afghanistan: 26
* Total number of hate crimes reported to the Council on American-Islamic Relations nationwide since 9/11: 1,714
* Economic loss to New York in month following the attacks: $105 billion
* Estimated cost of cleanup: $600 million
* Total FEMA money spent on the emergency: $970 million
* Estimated amount donated to 9/11 charities: $1.4 billion
* Estimated amount of insurance paid worldwide related to 9/11: $40.2 billion
* Estimated amount of money needed to overhaul lower-Manhattan subways: $7.5 billion
* Amount of money recently granted by U.S. government to overhaul lower-Manhattan subways: $4.55 billion
* Estimated amount of money raised for funds dedicated to NYPD and FDNY families: $500 million
* Percentage of total charity money raised going to FDNY and NYPD families: 25
* Average benefit already received by each FDNY and NYPD widow: $1 million
* Percentage increase in law-school applications from 2001 to 2002: 17.9
* Percentage increase in Peace Corps applications from 2001 to 2002: 40
* Percentage increase in CIA applications from 2001 to 2002: 50
* Number of songs Clear Channel Radio considered "inappropriate" to play after 9/11: 150
* Number of mentions of 9/11 at the Oscars: 26
* Apartments in lower Manhattan eligible for asbestos cleanup: 30,000
* Number of apartments whose residents have requested cleanup and testing: 4,110
* Number of Americans who changed their 2001 holiday-travel plans from plane to train or car: 1.4 million
* Estimated number of New Yorkers suffering from post-traumatic-stress disorder as a result of 9/11: 422,000
Out of the Rubble We Stand Tall Read About the 9-11 Flag and its Journey across the USA
Firefighters 'pay it forward' by helping rebuild Arkansas town destroyed by tornado
Escorting 9/11 memorial has a special meaning for Jacksonville fire supervisor
MORE TRIBUTES AND MEMORIALS CLICK HERE
GOD BLESS ALL OUR HERO'S AND FAMILIES THAT HAVE FALLEN, AND TO THOSE THAT STILL LIVE ON!
Person of the Week: The Babies of 9/11 in Their Own Words, 9 Years Later
Diane Sawyer talks to the childrne nine years later click here to see
Home site of children of September 11
THE CHILDREN OF 911 ART
;
Fire Fighters
"It's not something you do, It's something you are"!!!!!!!
From this most horrible event that American soil had ever seen, came faith and courage and strength among the American people, to never give up in our beliefs, or our people and for the things we hold near and dear. To strive from that day to bring a new beginning as the New York Firefighters say its not about what happen on Sept 11, 2001 but its now about Sept 12th and there after. Its all about making change to help our fellow man, and for giving thanks we are a strong Nation, united, and out of the rubble to bring forth the ability to Pay It Forward. We shall never forget!!!!
This is dedicated to all firefighters and to the man I love, to say Thank You!!!
Click here to listen and Thank You
CLICK HERE THE PAY IT FORWARD MOVEMENT
PLEASE VIEW THIS WHEN YOU CAN